Happy Friday everyone! This week, I thought I would join in some Friday fun and hop along and find some new blogs to follow!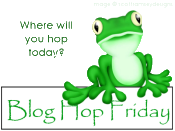 I also read this quote today and it made me smile/laugh (Bill Cosby always does!), so I thought I would pass it along to add to the Friday fun:
Ahhh..too true! So many of the things that I have learned about parenting so far (you know, in my almost 1 year of experience ;) was not learned in a book.
Happy Friday everyone and welcome to my blog if you are a new reader! So happy to have you here!