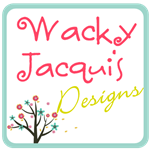 Use Blogger? Is your blog in need of a pick-me-up? Mine is!
Wacky Jacqui's Designs
is having an amazing giveaway right now and I would
LOVE
to win the
Grand Prize
that she is offering! Wacky Jacqui's Designs creates custom blogger designs and she has done some really wonderful work. You can take a look at some of the designs she has created
here
.
One very lucky blogger is going to win the Grand Prize, which is a blog makeover that includes:
• 2 or 3 column design
• Custom background
• Custom header (basic or animated)
• Matching font color
• Sidebar titles (unlimited)
• Custom signature
• Custom post divider
• Social network icons (unlimited)
• Convert to a 3 column layout (if needed)
• Custom blog button (2 included)
• Matching profile picture
• Navigation bar with text or images
• Matching twitter background
• Favicon
• Deletion of Blogger navigation bar if desired
• Installation
I would absolutely love to win this amazing package. My html skills/blogger design skills are, well... I don't really have any. I would love something custom that really embodies my personality and makes The Little Hedgehog Blog stand out as a unique blog. This whole package is something that I would never "treat" myself to, because, there are so many usable free backgrounds out there. Not that there is anything wrong with the free backgrounds out there- hey, I'm using one! I would just love something that is one-of-a-kind and has that little something extra special too it that only custom work can add.
So, here's to hoping that I win! That would be a lucky day in my book! If you have a blogger account, you should also head over to
Wacky Jacqui's Designs
and enter for your chance to win the Grand Prize too! Good luck!