#spon: I'm required to disclose a relationship between our site and Sprout Foods. This could include the Sprout Foods providing us w/ content, product, access or other forms of payment. Check out the new Sprout Foods website at www.sproutorganicfoods.com.
Little Michael loves snacks! If he could eat snacks all day, I think he would. Breakfast, morning snack, lunch, afternoon snack, late afternoon snack, dinner...and then we start all over the next day! He may be part hobbit, I'm not sure yet. Elevenses anyone? I try my hardest to make all of Michael's meals from scratch and include as many organic ingredients as possible. I enjoy cooking and preparing meals. Making things helps me limit Michael's sugar intake and chemical intake (from pesticides in non-organic foods). I try to make him meals that are nutritious, healthy and fun. Sometimes though, I just don't have the time to make every snack from scratch. One way that I like to sneak in some fun "treats" and "surprises" is through organic, pre-made snacks. Sometimes Michael will get his "surprise" at lunchtime and sometimes I squirrel them away in my diaper bag to pull them out at just the right moment...like when we are running errands, at the beach or pool, on a road trip or at the doctor's office.
I have found a great snack for when we are on-the-go! It is healthy and organic too! When we are out running errands, I am guaranteed to hear, "Mama, I'm hungry!" from the backseat. :) I like to be prepared for such moments and have something to keep my little guy happy.
Sprout Foods
has created the perfect toddler snacks with their Yogurt Bites and Fruit & Veggie Crispy Chews! The snack bags are just the right size to tuck into my diaper bag and the snacks on the inside are the perfect portion for little Michael. They are easy for me to open up and hand to Michael, whether he is in the backseat or sitting in a shopping cart. The snacks are the perfect size for little hands too! I love the organic fruit and veggie combos that Sprout Foods has created and Michael loves the sweet treats! Just because we are out and about is no reason why Michael can't still have a healthy, good-for-you snack...oh and it's also a plus that they taste great too! I am so happy that I have a new go-to snack in the Sprout Foods line!
Sprout Foods generously send us a goodie box that was full of Fruity Yogurt Bites and Fruit & Veggie Crispy Chews for little Michael to try!
There were 8 Fruity Yogurt Bites (2 of each flavor):
Banana Pumpkin Yogurt with Real Banana Pieces
Orange Carrot Yogurt with Real Mango Pieces
Raspberry Yogurt with Real Mango Pieces
Strawberry Carrot Yogurt with Real Banana Pieces
and 8 of the Fruit & Veggie Crispy Chews (2 of each flavor)
Orange Fruit & Carrot
Purple Berry & Carrot
Red Berry & Beet
Tropical Fruit & Pumpkin
Don't they all sound yummy?! I love that the flavor combinations are so unique! Michael's favorites were the Fruit & Veggie Crispy Chews. I think that they are like a thick fruit leather with crispy brown rice that gives it a nice crunch. To Michael, they are like candy! His favorites were Red Berry & Beet and Purple Berry & Carrot! The Fruity Yogurt Bites are crunchy and the dried yogurt makes it possible to take this snack out with us, even when it is 100 degrees outside! Michael's favorite was the Raspberry Yogurt with Real Mango Pieces.
The "...mission at Sprout is to create organic products for babies and toddlers that taste great - because a love of healthy foods can last a lifetime!" Sprout has created a a line of baby and toddler foods and snacks that feature organically-grown vegetables, fruits, grains and proteins. While Michael is really good at eating fruits and veggies (or at least giving them a try before he makes his finally assessment), sometimes it is nice to pull a snack out of the cupboard and not have to worry about slicing, dicing or scooping. Just tear it open and eat! As a parent, it is nice to not have to worry about artificial ingredients too!
BUY IT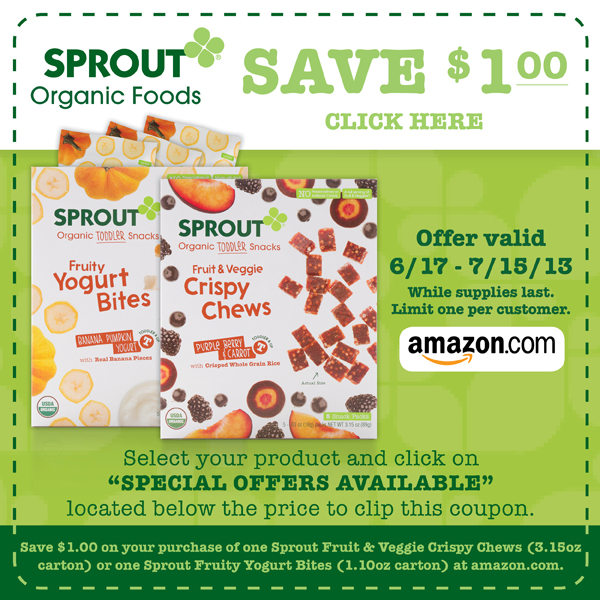 GIVEAWAY
One lucky reader will receive a Sprout Organic Foods sample pack, featuring the NEW toddler snacks - all four flavors of the Fruity Yogurt Bites and all four flavors of the Fruit & Veggie Crispy Chews. 8 snacks total!

***Giveaway is open to the US only. Entrants must be 18+ years old. One entry per household. The winner has 48 hours to respond before another winner is chosen.***
Giveaway will end July 13th.

Entries go in the Rafflecopter form below! Good Luck!
a Rafflecopter giveaway
I was provided
the opportunity to host this giveaway at no cost to myself. I received the above mentioned product(s) in exchange for this review. This has not influenced my opinion of the product. I have sought to give my honest opinions and experiences on this product. The views and opinions expressed on this blog are purely my own.